We are excited to announce that Hawaii's newest medical air ambulance provider, Hawaii Emergency Air Lift (HEAL), has joined our network to provide medical interisland travel for our members! We are proud to be the first payer to contract with HEAL.
HEAL is Hawaii's only independently owned and locally operated air medical service provider. They are also the first provider in the islands to feature a dedicated fleet of high-speed, state-of-the-art jet aircraft, and they utilize the latest medical and aviation technology to ensure that patients receive the highest standards of care and safety.
If you have any questions, please contact our Customer Service Center.
This notice was last updated on July 13, 2020.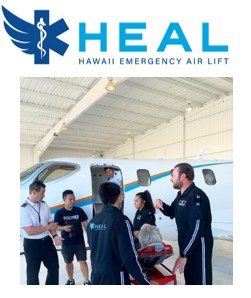 Hawaii Emergency Air Lift (HEAL) is a proud member of the Wing Spirit family of companies. Wing Spirit Inc. is a Hawaii-based company with operations in aviation, medical care and education. Wing Spirit Inc. is not a direct air carrier in operational control of aircraft. All flights will be operated by a licensed direct air carrier.