See a Doctor Online or by Phone
We are pleased to provide HMAA members with access to a local and national network of physicians online or by phone, through our HiDoc® telemedicine service (hosted by CareClix). You can see a HiDoc® physician for any non-emergent medical issue, including during domestic or international travel, 24/7. HiDoc® enables you to virtually speak with a doctor usually within 30 minutes, or schedule an appointment for a later date and time. Specialty care and second opinions are also available through specialists based in Hawaii or at many world-class clinics throughout the United States. Specialty consults will be scheduled within 48 hours of request.
When should I use HiDoc®?
HiDoc® is intended to work in tandem with your primary care physician and not as a replacement. Consultations are confidential and secure, and a telemedicine visit has no out-of-pocket cost.
Some conditions commonly treated through HiDoc® exams include:
Allergies

Vomiting & Diarrhea
* Refills should be requested only in urgent situations when your primary care physician is unavailable.
Accessing a physician through HiDoc® makes seeing a doctor quick, easy, and virtually painless. You do not have to waste time in a waiting room, transportation is no longer a barrier to receiving quality care, and the emergency room no longer needs to be a first line of defense when your primary care doctor is unavailable. Consultations can be scheduled using your home computer, mobile device or phone, 24/7.
Not sure when you should consult with a HiDoc® physician instead of going to the ER or urgent care center? View our guide to help you decide. A doctor's note for your employer is available after your consultation upon request.
How do I schedule a consultation?
There are three ways to schedule a consultation – by phone, online, or via mobile app. You will need to provide information located on the front of your insurance card and date of birth to verify your eligibility.
Call toll-free (844) 423-6242 to request a consultation. Be prepared to provide your member ID number located on the front of your insurance card and your date of birth to verify eligibility.
The HiDoc® Patient Portal is required for video consultations and is accessible online or through the mobile app.
Register or login here from your computer to schedule a consultation. The HiDoc® Patient Portal is required for video consultations and provides access to your telemedicine records.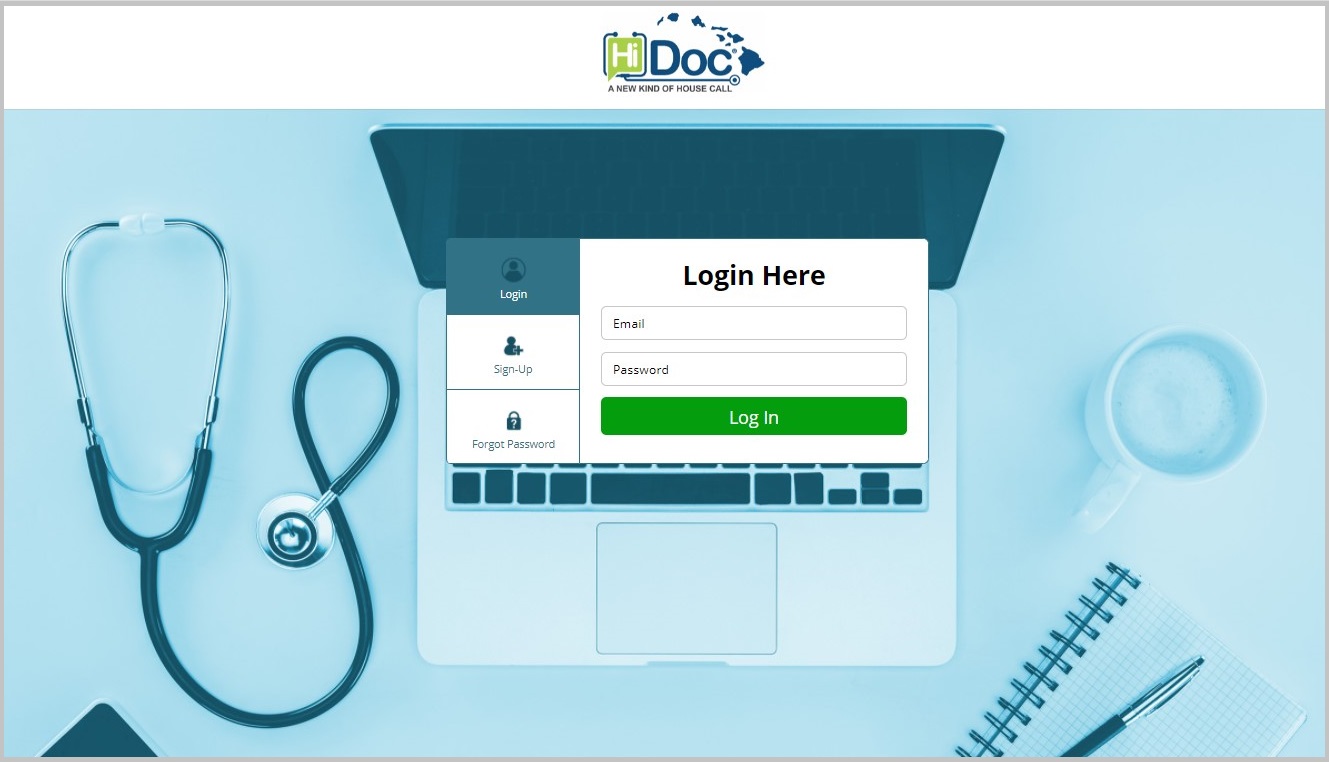 If you have questions or need assistance, please contact:
System requirements for video consultations
High-speed broadband/wifi Internet connection or 3G/4G for mobile app
Webcam with 1.3 megapixel resolution or rear and front facing cameras on a mobile device
Google Chrome or Mozilla Firefox are the recommended web browsers
iPhone 4S + or Android 4.0+ operating system for mobile app
Microphone and speakers for using on a PC or Mac
Minimum 5 Mbps download